Revenue Summit 23
October 27 @ 9:00 am

-

5:00 pm

$99 – $109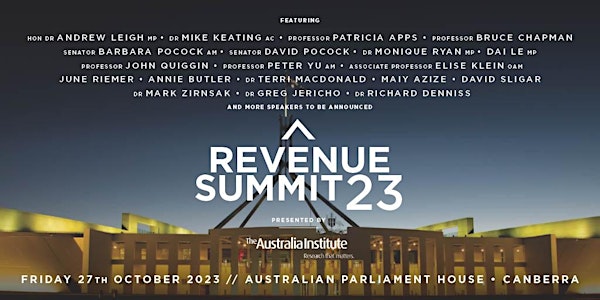 We need a tax system that fits with the needs and desires of Australians for a fair and equitable society.
The Australia Institute will bring economists and taxation experts together to discuss revenue raising options to meet Australia's needs now and into the future. It is an opportunity to discuss current taxes, explore potential new means of revenue, contextualise debt, challenge paradigms and reassess public spending priorities.
Tickets are on sale now, book now before they close!
Revenue Summit 2023
Friday 27 October, 9AM – 5PM
Australian Parliament House, Canberra
Speakers include
Hon Dr Andrew Leigh MP | Assistant Minister for Competition, Charities and Treasury, and Assistant Minister for Employment
Senator Barbara Pocock AM | Greens Spokesperson for Finance, Employment and Public Sector, Senator for South Australia
Senator David Pocock | Independent Senator for Australian Capital Territory
Dr Monique Ryan MP | Independent Member for Kooyong
Dai Le MP | Independent Member for Fowler
Dr Mike Keating AC | former Head of the Department of the Prime Minister and Cabinet
Professor Bruce Chapman | Professor of Business and Economics Australian National University, Senior Economic Advisor to former Prime Minister Paul Keating
Professor Patricia Apps | Professor of Public Economics, The University of Sydney
Professor John Quiggin | UQ Laureate Fellow, School of Economics, The University of Queensland
Professor Peter Yu AM | Vice-President, First Nations Portfolio at the Australian National University
Associate Professor Elise Klein OAM | Crawford School of Public Policy, Australian National University
Annie Butler | Federal Secretary, Australian Nursing and Midwifery Federation
Dr Terri MacDonald | Director Public Policy and Strategic Research, National Tertiary Education Union
Maiy Azize | National Spokesperson, Everybody's Home
Dr Mark Zirnsak | Spokesperson, Tax Justice Network Australia
June Riemer | Deputy CEO, First People Disability Network
David Sligar | Director, Egality
Dr Greg Jericho | Chief Economist, The Australia Institute
Dr Richard Denniss | Executive Director, The Australia Institute
Final Program to be announced soon
The Revenue Summit 2023 is for everybody – public servants, political staffers, policy makers, academics and anyone interested in meeting Australia's future challenges.
Tickets are on sale now – get in quick!
Australia has emerged from the pandemic facing high inflation and escalating interest rates, triggering a cost-of-living crisis. Meanwhile, companies in several key sectors enjoyed windfall gains, driving a profit-price spiral. Within this context, the Government repeatedly affirmed its commitment to fiscal restraint, and delivered a budget surplus in excess of $20 billion.
However, as the pandemic showed, public services and government support are crucial both in times of crisis and in addressing the needs and challenges of a modern society. These challenges are only set to grow. Tackling climate change, addressing the housing affordability crisis, improving childcare and aged care accessibility and quality will all require more government spending.
With this bigger role for government comes the need for more revenue.
Tax is not just the price we pay to live in a civilised society, it's the way we shape the civilisation we want to live in.
~The Australia Institute team